Transdisciplinary Workshop: Bonding with Plastics
How do we generate responsible, pro-environmental action?
How do we attribute new values to an artificial material as contested as plastics?
Can we create an emotional connection to plastics…
… and bond with the artificial material to form a personal relationship, hence responsibility?
Imagination, creativity, visualisation .. what are their roles in generating novel ideas and actions?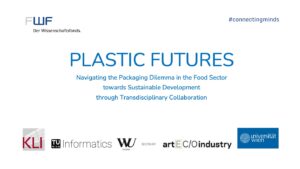 Connecting with an Artificial Material: Art Thinking Methods
Imaging and visualising, arts-led approaches can stimulate participants to activate creativity, articulate new questions, and form a connection with inanimate matter, also within the virtual, 2-dimensional realm of todays' Zoom conferences.
Dominika (artEC/Oindustry) co-designed and co-hosted virtual workshops on the topic "Plastic Futures: Navigating the Packaging Dilemma in the Food Sector towards Sustainable Development through Transdisciplinary Collaboration." Being part of a FWF Wissenschaftsfonds' #connectingminds application by the KLI for Cognition and Evolution Sciences, Informatics at the Technical University Vienna, EDGE – Environmental Geoscience at the University of Vienna, and Dr. Ines Omann, the workshops were held on November 20 and December 14, 2020 in a Zoom/Miro format. Stakeholders from industry, science, NGOs, the arts and small businesses came together to channel ideas, pathways and collaboration opportunities for the upcoming transdisciplinary project.
Dominika was responsible for the creative part of the workshops that intended to drive novel ideas and approaches. The Covid-19 restrictions made a meeting in person impossible. Hands-on activities thus had to be transferred into the virtual reality. Pre-envisioned strategies through embodied metaphors had to be translated into cyberspace embracing imagination and tacit visualisation as tools for inducing new perspectives and values of plastics. An adaptive business model canvas merged business approaches with creative inputs.
The workshops revealed how creative bonding techniques can overcome us-them dichotomies, foster connectivity, induce new values and envision shared responsibilities.